Written by Tim Slaney, volunteer coordinator of the Lethbridge Overdose Prevention Society, and Sandra Ka Hon Chu, the Director of Research and Advocacy at the HIV Legal Network. 
---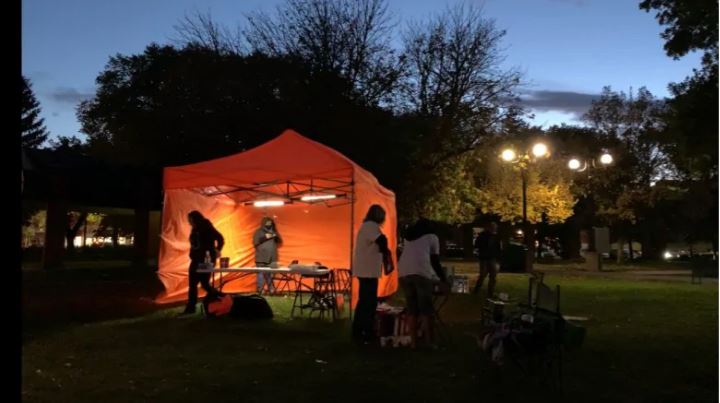 At a time when people who use drugs in Alberta are at greatest risk of harm, their own government is doubling down on draconian measures that will undoubtedly result in more deaths. 2020 has not been kind, and this is especially true for people who use drugs: the brutal effects of the COVID-19 pandemic — which has further reduced access to vital health care services — coupled with Canada's poisoned drug supply cannot be overstated.
In the first half of 2020, 449 people in Alberta died from overdose, the highest number of fatalities since the province began reporting these needless deaths. Twenty-two of these people lost their lives to overdose in the small community of Lethbridge, meaning its per-capita overdose rate is alarmingly high. But despite these grim statistics, the Government of Alberta shamefully cut funding to Lethbridge's only supervised consumption site, known to be among the busiest in the world. This misguided move, made on International Overdose Awareness Day, no less, effectively shuttered the service without adequate replacement and cut off hope for people who drugs in the city.
But with outright hostility from the province, a group of dedicated harm reduction advocates came together and opened an unsanctioned — though not without precedent — overdose prevention site. This site, staffed entirely by volunteers with the Lethbridge Overdose Prevention Society and funded solely by community donations, provides life-saving harm reduction services and core equipment for people who use drugs. People in Lethbridge once again have a fighting chance at survival despite incredibly stressful circumstances.
It is important to note that while clearly an essential public health intervention, Lethbridge's pop-up site operates without an exemption from the Controlled Drugs and Substances Act, which could easily be granted by the federal Minister of Health. This means that those using currently illegal drugs at the site can be charged with drug possession, and there is a persistent and very real threat of closure. Municipal authorities in Lethbridge have publicly criticized the site and its volunteers, often employing racist dog-whistle warnings against an "influx" of Indigenous people from hard-hit nearby reserves that have no access to supervised injection.
And so, in the absence of support from local governments, it's past time for the Government of Canada to step in. There is a strong legal foundation for granting a ministerial exemption for the new Lethbridge site: namely, a 2011 decision by the Supreme Court of Canada regarding Vancouver's Insite, our country's very first authorized supervised injection site. In that decision, the Court stated that the then-Minister of Health's refusal to renew an exemption for Insite's clients and staff violated the Canadian Charter of Rights and Freedoms. The unanimous Court said the denial of the exemption was arbitrary and that the harms were grossly disproportionate to any purported benefit of maintaining an absolute prohibition of illegal drugs on Insite's premises.
It's clear that denying a federal exemption to Lethbridge's new pop-up overdose prevention site would violate the rights of the hundreds of daily visitors who were once able to access health care at the now-shuttered original site — especially given the absence of any adequate alternative. With clear evidence of need, those who advocate yet another closure are callously risking the lives of the many people who rely on the site for care and support. Rather than attack volunteer health workers, politicians and law enforcement at all levels should support and fund this essential health service. Arguably, closing the Lethbridge pop-up site would disregard the decision of Canada's highest court of law and, most importantly, people would die as a result.
The COVID-19 experience has taught us that government response in the face of a public health crisis can and should be swift. Health Canada must provide a federal exemption to Lethbridge's pop-up overdose prevention site without delay, allowing it to continue operating without the threat of criminal sanctions. Facing municipal and provincial governments that are ideologically hostile to harm reduction services and to people who use drugs, the Government of Canada must also demonstrate its commitment to evidence-based interventions by putting its money where its mouth is: the Lethbridge site needs funding — now. Volunteers and citizen donations are not a long-term solution to a critical gap in health care services and, in Alberta, we need some caring, compassionate adults in the room.