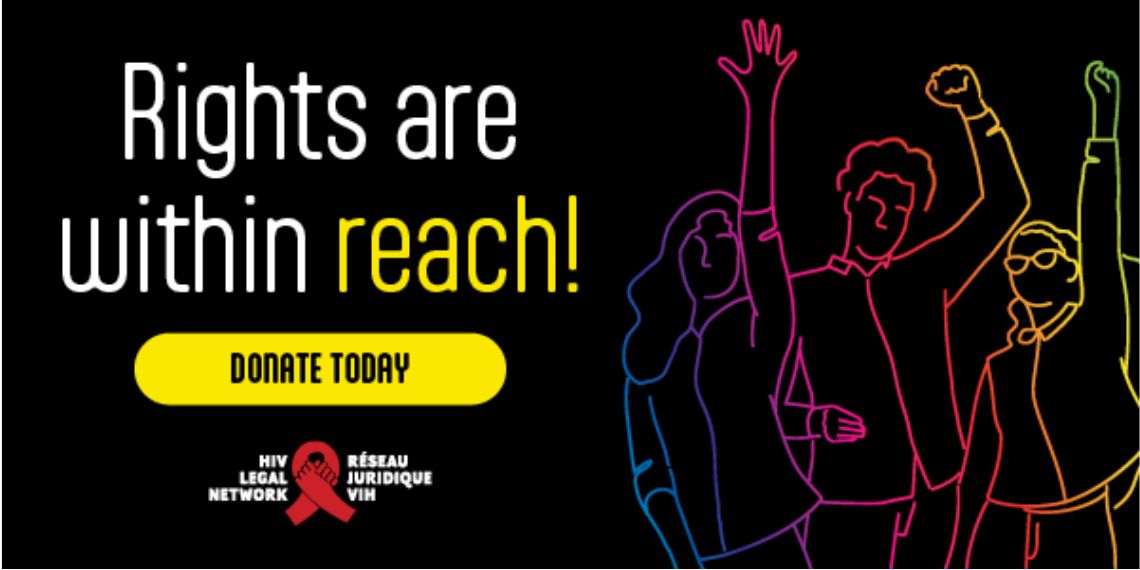 Your support has a major impact. A series of breakthroughs in recent years have given us real hope that the human rights and dignity of all people can and will be respected, protected, and fulfilled around the world.
Rights ARE Within Reach!
Whether you are a current supporter of the HIV Legal Network or are considering your first gift, your support will go further this year thanks to our long-time friend and donor Andrew Beckerman. Again this year, Andrew has issued his "Charlie's Challenge" in honour of his late father to match donations made to the Legal Network dollar-for-dollar — and this year he's upped the ante and his own gift!
We hope you'll consider donating as your dollars will be doubled through December 31st.
Slide 1
"The HIV Legal Network inspires me each and every day."
Slide 1
"For almost 30 years, the HIV Legal Network has been advocating for people living with, and affected by, HIV — people like me."
Slide 1
David Garmaise passed away in 2020, leaving a beautiful legacy of advocacy for human rights and LGBTQ+ communities.
Slide 1
"Truly, the Legal Network goes places others won't. Working alongside communities, they leave no stone unturned to make sure the rights of people living with and affected by HIV are upheld."
Support the Caribbean Can Rainbow Fund and help defend the rights of LGBTQ people in the Caribbean.
Are you a researcher, professor, or other academic who has benefited from our analyses and advocacy materials? Join the Scholars Circle by donating monthly — an affordable method of giving that helps us year-round. And please help us build support by inviting your professional colleagues to join you in supporting our work.
Want to help us defend and advance human rights, in Canada and around the world? Join our Defenders Circle by donating monthly — an affordable method of giving that supports our work year-round.
5. GIVE A GIFT OF STOCK
As of May 2, 2006, donations of publicly listed securities are exempt from capital gains taxation. Making a gift of stock is a simple procedure that can make a world of difference. To find out more, please contact Doriana Schiavi at DSchiavi@hivlegalnetwork.ca.
6. LEAVE A BEQUEST IN YOUR WILL
To find out more about making a gift in your will, please contact Doriana Schiavi at DSchiavi@hivlegalnetwork.ca.
Your gift allows us to
fight for the rights of people living with HIV who suffer from discrimination based on HIV status, unjust criminalization, inadequate access to treatment, and other human rights abuses;
defend the rights of women and girls who are denied equality under the law, adequate protection from violence, education, and essential HIV-related and reproductive health services;
advocate for laws and policies that respect, protect and fulfill the human rights of people living with or vulnerable to HIV;
provide technical assistance on HIV-related legal and human rights questions to front-line HIV workers and policy makers; and
achieve so much more…
Thank you for making a difference.
* Charitable organization registration number 141110155 RR0001